"You don't have to sit on top of a mountain to discover what is right for you. You always know in your heart what you need to do. But you do have to ask yourself if you're willing to make choices. Put yourself in a position where you're making choices about your life, rather than letting other people make those choices for you. That's what balance is all about."

~ Liz Dolan
In my book, Live the Life You've Imagined, I have a chapter titled, "Create Your Ideal Life Recipe," where I offer ten questions for contemplation. Though I wrote this book for an individual to use, I think that these same questions can be powerful and illuminating for a couple as well. Below are the ten "ideal life recipe" questions adapted for couples. I encourage you to answer them individually (i.e., write your perspective on the answer) then talk about what you've written.
What ingredients make your relationship rich & rewarding?
Who are we?
What are we passionate about?
What qualities do the people we admire possess?
What do we need to be our best?
What nurtures, renews, or inspires us?
Who do we want in our life?
Where or when do we feel limited,
shut down, or sapped of energy?
Do we have enough time just for us?
How do we know that we are valued, appreciated, and loved?
How would we live if we knew we would die one year from now?
Once you have your answers and have talked together about what you've discovered, there's one more key–ACTION. Choose just one area/item that you'd like to more fully realize in your marriage and start taking steps to create that new reality. If you're willing to share what you decided, or what you discovered, feel free to use our comments area (you can even be anonymous if you like).
If your relationship is beyond help, this is a good thing. How can this be, you may ask. I'll tell you after I share this quote.
"Serving is different from helping. Helping is based on inequality; it is not a relationship between equals. When you help you use your own strength to help those of lesser strength. Serving is also different from fixing. When I fix a person, I perceive them as broken, and their brokenness requires me to act. The bottom line, of course, is that we can fix without serving. And we can help without serving. And we can serve without fixing or helping. I think that I would go so far as to say that fixing and helping may often be the work of the ego and service the work of the soul. These things may look similar if you're watching from the outside, but the inner experience is different. The outcome is often different too."

~ Rachel Naomi Remen, In the Service of Life (PDF)
My contention is this. If your relationship is in the helping stage, you're not in full partnership. One of you is superior, one is inferior. If you're in the fixing stage, similar story–one of you is "broken" the other is the fixer-uper. But, if your marriage is one built on service, you're two equal partners contributing your gifts and sharing the responsibilities and honors of your relationship.
Remember when we told you about the Wedding Podcast Network–a great resource for planning your wedding? Well, guess what? We were featured guests on episode 22 of their show–Bridal Scene!
Robert Allen, one of the Wedding Podcast Network's founders, interviewed us about I Do! I Do! The Marriage Vow Workbook. In addition to our conversation about how to write your own wedding vows, the importance of personal wedding vows, and what's included in The Marriage Vow Workbook, there's some other great info on this podcast.
So, sit back, relax, and hop on over to the Wedding Podcast Network and listen to the Bridal Scene podcast! Show notes can be found here.
Looking for help planning your wedding?
Need some romantic ideas for your honeymoon?
Want tips for staying happy and healthy through the busy wedding preparations?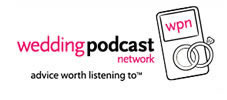 Look no further than the Wedding Podcast Network, original wedding talk programming for couples planning their wedding. Founded by seasoned wedding professionals, and wife and husband team, Robert Allen and Holli Ehrlich, they now feature many great shows, including:
newlywedcast — From engagement fairy tales to nuptial anecdotes, pre-wedding interviews and post-wedding follow-up, see how it all unravels through these insightful stories of romance, emotion and love!
grooms with a view — Helpful planning advice from the male perspective.
meet the masters — Premiere wedding authorities share thoughts and insights for brides everywhere.
lovecast — useful relationship advice. Learn how to manage the stress of wedding planning, accept differences, communicate, and resolve conflicts. Important life lessons, valuable information and topical discussions about your significant other and each other's families.
wedding workout — Fitness focused podcast with great workout tips.
bridal scene — Hear what's hot and happening in the world of weddings. Bridal tips, advice, interviews.
planet bride — Michelle and Henry Roth, sister and brother design duo, share their three generations of family bridal tradition and take you on a unique wedding planning journey. Hear how to get real and how to deal from a pair that know the wedding business like no other.
here come the moms — Brides and moms will learn how to work harmoniously for the perfect wedding experience.
Whether you listen on your home computer or download MP3s to play on your iPod, now you've had plenty of tried and tested practical wedding advice right at your fingertips. Visit the Wedding Podcast Network today!